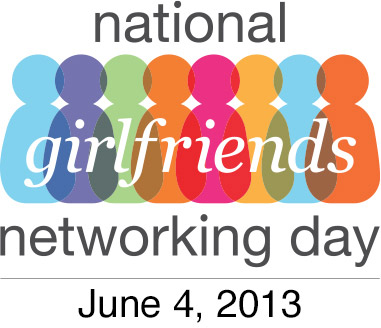 National Girlfriends Networking Day is a nationwide celebration of the power of building connections.
Join thousands of women around the country by attending interactive, networking events. We'll feature a panel of renowned, diverse women leaders discussing how to plan your career path, and then taking questions via social media from nationwide participants.
Meet the Panelists
Soledad O'Brien

Emmy Award Winning Journalist


Soledad O'Brien

Emmy Award Winning Journalist

Soledad OBrien is currently a CNN special correspondent. She recently entered into a unique production and distribution agreement with the network to produce long-form programming specials through her company, Starfish Media Group. Launching in June, the 360 media production company and distributor will be dedicated to uncovering and producing empowering stories that take a challenging look at often divisive issues of race, class, wealth, opportunity, poverty and personal stories.

A critically-acclaimed journalist, OBrien has reported on breaking news from around the globe. In 2011, she won an Emmy for Crisis in Haiti in the category of Outstanding Live Coverage of a Current News Story Long Form. O'Brien was part of the coverage teams that earned CNN a George Foster Peabody award for its BP oil spill and Katrina coverage and an Alfred I. duPont Award for its coverage of the Southeast Asia tsunami. The National Association of Black Journalists named OBrien the Journalist of the Year and Edward R. Murrow Awards lauded her with the RTDNA/UNITY award for Latino in America in 2010. OBrien has been integral in hosting and developing the award winning Black in America franchise, one of the CNN's most successful international franchises. In 2010, she wrote a critically acclaimed memoir 'The Next Big Story: My Journey through the Land of Possibilities', which chronicles her biggest reporting moments and how her upbringing and background have influenced these experiences.

In addition to Starfish Media Group, Soledad and her husband Brad run the Soledad O'Brien & Brad Raymond Foundation, which sends young women to and through college. A graduate of Harvard University, she lives with her husband and four children in Manhattan.

Lesley Jane Seymour

Editor-in-Chief More Magazine


Lesley Jane Seymour

Editor-in-Chief More Magazine

Lesley Jane Seymour was named editor-in-chief of More in January of 2008, where she led the magazine to a 2009 National Magazine Award nomination for personal service for an investigative piece called "The Endangered Uterus" and to nominations for General Excellence in 2010 and 2012. Under her guidance, the magazine published it's first compilation book, More Magazine's 287 Secrets of Reinventing Your Life: Big and Small Ways to Embrace New Possibilities, was named to Mediaweek's 2010 Hot List and dubbed "the Vanity Fair for Women" by marketers, and was the first Meredith brand to totally incorporate and run their own website. Seymour was also ranked 4th on Forbes' Most Powerful Fashion Magazine Editors list in 2009. In 2012, Meredith Corporation named Seymour Editorial Content Director of The Beauty Center of Excellence, which helps advertisers access all 100 million women across all Meredith brands.
Prior to joining Meredith Corporation, Seymour served as the editor-in-chief of Marie Claire, where she spearheaded the magazine's signature cause-related programs, including It's Time to Talk Day, in which Congress renewed the Violence Against Women Act thanks in part to the magazine's effort; she created the One World/One Wish campaign for the international relief organization Save the Children, which authored legislation to take 1% of defense spending to put toward rehabilitating women and children after war.

Prior to that, Seymour was editor-in-chief of Redbook, where she repositioned the magazine, developed new editorial programs and features and guided the title to a National Magazine Award nomination for Personal Service for its comprehensive Breast Cancer Medbook. Seymour's editorial experience also encompasses serving as the editor-in-chief of YM, beauty director of Glamour and senior editor for Vogue. Additionally, Seymour is the author of two books: On the Edge: Images from 100 Years of Vogue and I Wish My Parents Understood.

Kym Hampton

WNBA Standout, Plus-Sized Model, Actress


Kym Hampton

WNBA Standout, Plus-Sized Model, Actress

Kym Hampton will undoubtedly go down as one of the most dominant centers in WNBA history. Known for her tough moves around the basket and tenacious rebounding, the Louisville, KY native's playing career spanned two decades while her influence and community involvement is unmeasured.

Kym's career has not been limited to the basketball court. In addition to being an accomplished singer, Hampton has also worked as a plus-sized model and had a role in Spike Lee's 2004 film "She Hate Me." Most recently, she was a featured model in Queen Latifah's Queen Collection for Cover Girl. Kym currently serves as the Liberty's Community Relations & Field Marketing Specialist, helping develop the brand through community relations, ticket programs and sponsorship.

In addition to being a Liberty legend, Kym has embarked on a singing career headlining at Birdland, Ashford & Simpson's Sugar Bar and was featured on NBC's television series Revolution. She has also performed the National Anthem at Madison Square Garden on several occasions over the past 17 years.

Loretta McCarthy

Managing Partner Golden Seeds LLC


Loretta McCarthy

Managing Partner Golden Seeds LLC

Loretta McCarthy is Managing Partner of Golden Seeds LLC, an investor consortium that invests in early-stage, women-led companies. Since its founding eight years ago, Golden Seeds has invested over $55 million in 57 companies. At Golden Seeds, Ms. McCarthy serves manages its nationwide network of over 270 members. She is an active participant in screening companies, completing due diligence and mentoring entrepreneurs.
Ms, McCarthy is also involved in international entrepreneurship. She has served as a US State Department delegate to both Indonesia and Turkey. She currently serves on the international advisory board for a business incubator in Turkey, which is operated by the country's Economic Policy Research Foundation.

Previously, Ms. McCarthy held executive positions in several organizations. For 16 years, she was with OppenheimerFunds, Inc., a leading investment management firm, where she was Executive Vice President, Chief Marketing Officer and a member of the Executive Committee. Prior to OppenheimerFunds, she was with the American Express Company where she managed the relationship for the American Express Card in the retail, restaurant and entertainment industries in the US.

She has extensive experience serving on boards of directors of corporations and not-forprofit organizations. Corporate boards include: First Investors Corporation and Prolitec, Inc. She serves on the boards of the following non-profit organizations: Sanctuary for Families, Take the Lead, New Yorkers for Children and Abingdon Theatre Company. Previously, Ms. McCarthy was a board member of the Women's Tennis Association, where she launched the organization's pension plan for professional tennis players.
Thank You to Our Sponsors


Thanks to Our Angel Investors
PERIDOT ANGELS
Pamela Lawrence
Sarah Berner
CITRINE ANGEL
Karen Gerringer
TOPAZ ANGELS
Dr. Susan S. Fleming
The Honorable Bea Lanzi
Jo Anne O'Dell
Mission Statement
To engage college and young professional women in building and expanding their networks of connections with both colleagues and mentors.
How it Works
A panel featuring renowned, diverse women leaders discussing their personal experiences with taking risks and building connections will be streamed to 30+ events, around the country, hosted by corporations and women entrepreneurs. During the hour long event (12-1 pm ET), thousands of women will tune in and interact with the panel, then network with others.
Goals
Encourage tens of thousands of women nationwide to recognize the importance of building their network, either by attending a hosted event or by connecting one-on-one.
Host 30+ interactive events in major cities across the country which provide women with an opportunity to network in a collegial, enjoyable atmosphere.
Enable corporations to participate by engaging their employees, interns and college women.
Educate the public about the necessity of women building their network of connections through media releases, articles and video content.
Establish the connections necessary for women to advance into leadership.
Encourage women to stay connected and grow their network all year round on The Mentor Exchange.