Hope Solo Slapped and Berated By Her Dancing With The Stars Partner
August 18, 2012 by Jo Anne ODell
The following article is cross-post with the express permission of the author from the blog Ebb and Flow of Current Affairs.  The opinions expressed herein are those of the author, and not necessarily those of The New Agenda.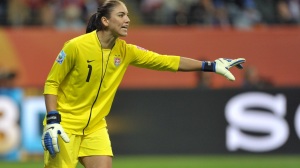 The USA Women's Soccer Team Great, Hope Solo has released a new memoir.  Solo reveals in the memoir that when she was rehearsing for Season 13 of Dancing with the Stars, her dancing partner, Maksim Chermerkovskiy slapped her so hard it left her ear ringing.
Solo was interviewed on ESPN's "First Take" yesterday morning and she told ESPN that Maksim manhandled her during the Dancing With the Stars training and berated her for being less than lady-like.
This is a reality show run a muck.
The first thing that needs to be done is fact finding. ABC, the network that airs the show must conduct an investigation.  Solo claims that ABC got the incident on tape, and apparently, according Access Hollywood's inquiry to both ABC and BBC, the tape was lost.
However, if the incident was captured on tape, someone had to be taping it, therefore there had to be an actual witness.
This is physical, verbal and emotional violence against a woman.
Everyone who watches this show must demand accountability from the producers and sponsors of  Dancing With the Stars to put a stop to this type of behavior.
Physical, verbal, and emotional abuse against a man or a woman is totally unacceptable.
When someone gets hit so hard that it leaves their ear ringing, that is a hard hit.
I know, because I hit my head in a car accident and my ears will never stop ringing and half of my hearing is gone in both ears.
Hope Solo is a Major star on the Olympic Gold Medal USA Women's Soccer Team.  Solo has nothing to gain by coming forward.  She is not seeking notoriety.  She needs no name recognition or attention.
Hope Solo's memoir reveals abuse that is all too common behind the scenes all over Hollywood.
Hope Solo has spoken up about the sexism that turned violent behind the scenes in the reality sho-biz.
Sexism turning violent in the media by the reality – media has just been a ticking time bomb.
We have listened to comedians and news journalists call respected female politicians called the "C" word and other nasty words meant for women.
Our esteemed Secretary of the United States of America, Hillary Rodham Clinton, who has the highest public approval rating of all public officials of any political party including our current President, has endured endless misogynistic comments in the media and from comedians and made for TV shows.
HOPE SOLO'S SPEAKING UP ABOUT THE PHYSICAL ABUSE ON ABC'S DANCING WITH THE STARS TV SHOW IS THE GAME CHANGER FOR WOMEN NOW.
Call and write ABC and demand that a proper investigation be conducted and if Maksim is guilty he must be fired.
Go to:
Join and support women like Hope Solo and women and girls everywhere as they fight misogynistic treatment.
Finally, if someone hits you, press charges and get the hell away from them.
Sexism is not just against women.  It goes both ways.  Violence goes both ways as well.  If you are a man and are being abused get out and report it and get help.