The following article is cross-post with the express permission from the blog The Stiletto. The opinions expressed herein are those of the author, and not necessarily those of The New Agenda.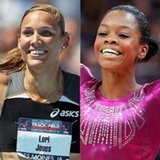 THE DAILY BLADE: Olympic gymnast Gabby Douglas and hurdler Lolo Jones together exemplify a common dilemma plaguing women in public life – whether high-level executives, politicians or athletes. They are judged by their looks, not their accomplishments – and if their looks are found wanting, as they too often are, then their accomplishments don't matter. And if their accomplishments don't matter, they don't matter.
Douglas made history by becoming the first black American to win a gold medal in the individual all-around competition, and the first American gymnast to win gold medals in the individual and team competitions in the same Olympics, but all some people could focus on was her hair-do:
"Douglas was taken by surprise when she went to her computer and found many critical comments about her hair" after winning her first gold medal, International Business Times reports:
In a statement to the Associated Press, Gabby Douglas said, "I don't know where this is coming from. What's wrong with my hair? I'm like, 'I just made history and people are focused on my hair?' It can be bald or short; it doesn't matter about (my) hair."
Gabby Douglas, who clips her hair in a short ponytail, seemed more disappointed than angry. She said she has worn the style for years. "Nothing is going to change, I'm going to wear my hair like this during beam and bar finals. You might as well just stop talking about it," she said.
The snarky put-downs – coming as they did when she was still facing several events angered Douglas' mother, Natalie Hawkins:
How ignorant is it of people to comment on her hair and she still has more competitions to go. Are you trying to ruin her self confidence? She has to go out there and feel good about herself, and if she feels good about herself on that floor, who are you to criticize her? What have you done to help contribute to her dream, that you felt it necessary to put it out there so that she could see it.
Next to the golden girl herself, Star Trek's George Takei – who has a huge Facebook following that includes The Stiletto – summed it up best when he posted this photo: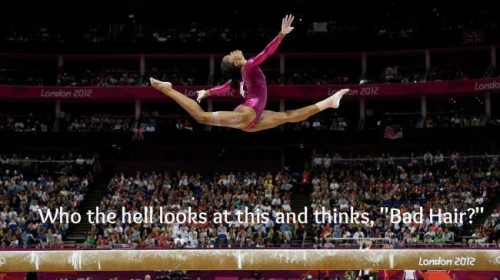 BTW, the teenager was also berated for her Christian piety by Salon staff writer Mary Elizabeth Williams, who was "unnerved" by her faith ("I give all the glory to God. It's kind of a win-win situation. The glory goes up to Him and the blessings fall down on me.") and sneered, "what is Jesus going to do now for Gabby Douglas' career?" before calling Christians vermin – specifically, lice.
Jones is also a Christian, and has famously vowed to remain chaste until marriage – ideally, to NY Jets quarterback and fellow Christian Tim Tebow. But whereas Douglas was slammed for not looking polished and pretty enough, Jones is being condemned for the opposite reason. Two days before Lolo Jones was to compete in the women's 110-meter hurdles, The New York Times published an article that cut the legs out from under her:
Judging from this year's performances, Lolo Jones seems to have only a slim chance of winning an Olympic medal … and almost no possibility of winning gold.
Still, Jones has received far greater publicity than any other American track and field athlete competing in the London Games. This was based not on achievement but on her exotic beauty and on a sad and cynical marketing campaign. Essentially, Jones has decided she will be whatever anyone wants her to be – vixen, virgin, victim – to draw attention to herself and the many products she endorses. …
"It reminds me of Anna Kournikova," said Janice Forsyth, the director of the International Centre for Olympic Studies at the University of Western Ontario.
This was a reference to the former Russian tennis player whose looks received far more attention than her relatively meager skills. …
Not always the most confident athlete, Jones has acknowledged battling doubt all season. Her modest times show it.
In an interview with Today co-anchor Savannah Guthrie, Jones choked back tears as she recounted the demoralizing impact the article had, Mediaite reports:
"The fact that it was from US media. I mean, like, they should be supporting our US Olympic athletes and instead they just ripped me shreds, and I just thought that that was crazy because I worked six days a week every day for four years, for a 12-second race. And the fact that they just tore me apart, it was just heartbreaking."
"They didn't even do their research," she added, in calling her the Anna Kournikova of track, even though she's an American record holder. "Just because I don't boast about these things, I don't think I should be ripped apart by media."
OK, Jones didn't medal, but she's hardly an empty track suit. As The Des Moines Register noted that she is a two-time world indoor champion, won five of nine international races in the run-up to the Olympics and ran her fastest time in almost two years in the final (12.58 seconds):
The last time Jones registered a faster time was June 12, 2010 (12.55).
The vast improvement – a year to the month after surgery on her spine, and in the wake of two hamstring injuries that followed – seemingly was overshadowed because the story failed to deliver the perfect made-for-TV ending.
As Los Angeles Times sportswriter Bill Plaschke put it:
It's a nasty business, this Olympic star-making machine. These athletes have one chance every four years to rake in the real gold, the endorsement and appearance money that helps compensate them for years of training. Most agree they would be fools to turn down that chance to capitalize on their success and enhance the quality of their often budget-strained lives.
Yet when Olympic athletes seek and embrace this publicity, they are criticized unless they have the medals to back it up. We chuckle at a guy like Terrell Owens working the system even though he has never won a Super Bowl, but heaven forbid an Olympian does the same thing, and shame on that Olympian if she is a woman.
And then there's American weightlifter Holley Mangold, 22, the heaviest woman at the London Olympics at 346 lbs. (157 kg), who was the target of a cruel tweet by Conan O'Brien:
I predict 350 lb. weight lifter Holley Mangold will bring home the gold and 4 guys against their will.
GoodMenProject.com lives up to its name and its mission by calling O'Brien out:
Holley is doing something with her female body that has traditionally been frowned up for women. Her choice to pursue weightlifting has supposedly made her unattractive to men but she can remedy that by using her superior strength to make guys have sex with her whether they want to or not. This makes her out to be some terrible woman that just can't get a man unless she becomes a rapist.
The impulse to diminish female athleticism by obsessing over looks is a global phenomenon. The Australian media criticized swimmer Leisel Jones's figure, suggesting she looked less fit than she did at Beijing in 2008 (the three-time gold medalist swimmer helped Australia win a silver medal in the medley relay in London); after beating Camaroon 5-0, the Brazilian women's soccer team was called "a bit heavy" by the coach of the vanquished African team; and several male twits Tweeted that 18-year-old British weightlifter Zoe Smith looked like a "lesbian" and a "bloke." To which she retorted:
We don't lift weights in order to look hot, especially for the likes of men like that. What makes them think that we even WANT them to find us attractive? If you do, thanks very much, we're flattered. But if you don't, why do you really need to voice this opinion in the first place, and what makes you think we actually give a toss that you, personally, do not find us attractive? …
We, as any women with an ounce of self-confidence would, prefer our men to be confident enough in themselves to not feel emasculated by the fact that we aren't weak and feeble.
At the highest level of competition, mental toughness can be the deciding factor between winning and losing. Athletes can expect their opponents to try to shake their self-confidence before they compete against each other, and Douglas, Jones and other world-class female athletes are rightly shocked that their fellow citizens would take to the Internet to do the job for their rivals.
Not only more women than men made the U.S. Olympic team – 269 women and 261 men, a historic first – but thus far, women athletes have won 23 of America's 33 gold medals. What will it take for the media and the spectators to focus on what female competitors can do instead of what they look like?