Women's Movement Strikes a New Agenda
August 7, 2012 by Contributor
The New Agenda's Amy Siskind is featured in this issue of Womenetics.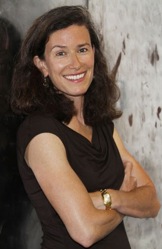 When Amy Siskind speaks in front of young women at colleges and universities throughout the country, she sometimes asks, "Who here understands the term 'perfection'?" When she looks out at the audience, everyone has raised their hand. Siskind's question to young female co-eds is not a vocabulary quiz. The former Wall Street executive and co-founder and president of The New Agenda, a national organization focused on women's advancement, is acknowledging a trait that she believes is pervading younger generations. If you've heard Siskind in the news recently, she is clear and on message about one thing: Professional women have got to start supporting those following in their footsteps in a way that defies the drone of mainstream media.
"This is a result of the media messaging young women have been exposed to," Siskind says of her audience surveys. "[Young women] are not able to take risks, are fearful of entering certain career fields."
Correcting this trend is one of the many tall orders that Siskind says The New Agenda is taking on over the next 50 years.
"One of my biggest messages to young women is that we have to fail," she goes on.
The rest of the article can be found here.