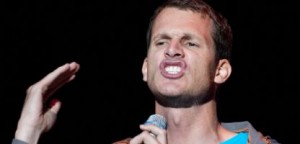 The opinions expressed herein are those of the author, and not necessarily those of The New Agenda.
Five. It's the number of guys Daniel Tosh joked about gang raping a female audience member. It's also the number of women you have to assemble in the U.S. in order for one of them to be the likely victim of rape. Five is the number of men employed by Penn State University in key leadership positions who perpetrated or covered up the sexual assault of young boys. And it's the number of Syrian soldiers who gang raped a young woman brave enough to tell her story on YouTube—just one of the many victims of systematic sexualized violence being perpetrated by Syrian officials. According to Stanford University, five women are raped every five minutes in the United States.
If anyone doubted the ubiquity of rape culture, the past week's news cycle provided pentadic proof of its insinuation into our daily lives. Rape is invoked as entertainment, dismissed as "horsing around," and deployed as a weapon. Although the victims of rape culture are disproportionately female, it negatively affects everyone caught in its wake. Rape culture first desensitizes, then degrades, and finally dehumanizes its subjects, prompting regular people to blithely laugh at rape jokes, furtively cover up the sexual assault of children, and callously participate in the systematic raping of vulnerable populations.
That is why the public reaction to Tosh's off-the-cuff response to an audience member who objected to the rape jokes in his act is so important. When confronted by this so-called "heckler" (whose objection to rape culture was further delegitimized by the derisive label assigned to her), Tosh reportedly responded by saying,
Wouldn't it be funny if that girl got raped by like, 5 guys right now? Like right now? What if a bunch of guys just raped her . . . .
When faced with this gross (and decidedly unfunny) manifestation of rape culture, the audience at the club reportedly laughed . . . with Tosh—at the woman. The owner of the club defended . . . Tosh—not the woman. And some of Tosh's comedian colleagues also rallied in support. One of Tosh's Twitter apologists, @nachosarah, urged her followers to "calm down about rape jokes" since "everyone's been raped at least once by george lucas."

For those not in the know, that tweet is a likely reference to the South Park episode, "The China Problem," which employs a rape metaphor to protest the abysmal (and critically-panned) Indiana Jones and the Kingdom of the Crystal Skull. The episode recreates iconic (and graphic) rape scenes from films like The Accused, Boys Don't Cry, and Deliverance, substituting George Lucas and Steven Spielberg for the rapists and Indiana Jones for the victim. With intertextual aplomb, South Park creators Trey Parker and Matt Stone transmute the violent crime of rape into a casual metaphor for artistic mediocrity, undercutting not only the seriousness of rape but also the critical function of the films they appropriate in their parodic display.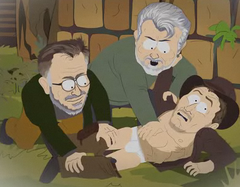 Whether employed lazily by a stand-up comedian like Tosh, or cynically by  ironists like Parker and Stone, rape humor is often shrouded in the protective cloak of comedic provocation. For example, the insta-poll that accompanied the Boston Globe's coverage of the Tosh incident asked:

As Jessica Valenti rightly points out, however, "threatening women with rape, making light of rape, and suggesting that women who speak up be raped is not edgy or controversial. It's the norm. This is what women deal with every day." Soraya Chemaly concurs, pointing out that:
These jokes, meant to dismissively demean instead of pointedly reveal, normalize and perpetuate a culture in which the degradation of women is not only tolerated, but fun. The way racist blackface humour was fun. Today's rape jokes are no different from yesterday's lynching jokes. It's just that overt racism is not acceptable, while misogyny and sexism are still celebrated. Otherwise, people wouldn't have laughed so hard when Tosh incited a gang rape as a response to a heckler.
The quotidian nature of rape makes rape culture all the more insidious. Humor—like any other communicative genre—can reaffirm or resist rape culture, but the genre, itself, does not shelter its proponents from the consequentiality of their words. This week, we were reminded where words like those can lead.
Follow Karrin on Twitter at KVAnderson