25 Female STEM Superheroes of Today
June 22, 2012 by Contributor
The following article is cross-post with permission from the Online Universities.com blog. The opinions expressed herein are those of the author, and not necessarily those of The New Agenda.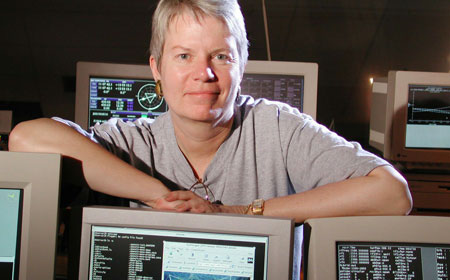 Sadly, not a lot of girls are interested in pursuing STEM careers these days. Just 20% of STEM bachelor's degrees are held by women, and only 25% of STEM jobs are filled by women. Experts say a major part of the problem is that girls don't have enough female STEM role models to look up to. We're not buying it.
There are so many women working in STEM fields right now who are living role models and can be superheroes for young girls today, if only they knew of their existence. We're here to point out some of the most inspiring ladies in STEM today, women who we think just might have a superhero cape and boots tucked away in their closets. Read on to find your own inspiration in these amazing women of science, technology, engineering, and mathematics.
1. Sally Ride, Physicist, Former NASA Astronaut:
Sally Ride is famous for her NASA career, as she became the first American woman in space during her role as part of the Space Shuttle Challenger crew. Ride spent more than 343 hours in space before leaving to work at the Stanford University Center for International Security and Arms Control. She's now the President and CEO of Sally Ride Science, an organization that works to create engaging science programs for tweens, especially young girls.
2. Red Burns, Godmother of Silicon Alley:
A pioneer in New York's downtown multimedia hub, Red Burns is recognized as a professor who has inspired students to launch startups, media companies, and new communications technologies. Burns is the founder of the Interactive Telecommunications Program at NYU (known as the Harvard of Interactive), and is highly recognized for her role as a researcher in science, art, and education, shaping interactive telecommunications for generations to come.
3. Missy Cummings, Associate Professor of Aeronautics and Astronautics, MIT:
These days, Missy Cummings spends her days as a professor at MIT, but from 1988 to 1999, Cummings was in the Navy, working as one of the very first female fighter pilots, eventually working her way up to the rank of Lieutenant. Although her fighter pilot days are over, she continues to be amazing as she researches and teaches the minds at MIT about human-computer interaction and autonomous systems. Recently, Cummings was featured on The Colbert Report, showing off her smartphone operated drones.
4. Caterina Fake, Flickr Co-Founder:
There's a good chance you've heard of a little photo website Caterina Fake co-founded: Flickr. Fake has become a female icon of Web 2.0 as Flickr went on to be acquired by Yahoo! and integrated into daily online life for so many. She is also a co-founder of Hunch, a site that is building the "taste graph" of the Internet, and was acquired by eBay in 2011. Fake is on the board of directors of Creative Commons, and is Chairman of the Board of Etsy.
5. Maria Klawe, President, Harvey Mudd College:
Maria Klawe is a computer scientist and the fifth president of Harvey Mudd College. She's also a board member of Microsoft and Broadcom, making her incredibly influential both as a scientist and academic. But Klawe isn't just making a difference in her own career, she's helping other women get on board with computer science, too. Since becoming the president of Harvey Mudd, she's tripled the number of female students pursuing computer science majors.
6. Susan Helms, Active Duty Commander, 14th Air Force, Commander, Joint Functional Component Command for Space, former NASA Astronaut:
Lieutenant General Susan J. Helms was once a NASA astronaut, a crew member on five Space Shuttle Missions, and a resident of the International Space Station. Along with crewmember Jim Voss, Helms went on an 8 hour, 56 minute spacewalk, which is the longest to date. Helms then went on to take a position at HQ USAF Space Command, and is now a part of the U.S. Strategic Command with a rank of Lieutenant General.
7. Lucy Bradshaw, Senior Vice President, Electronic Arts:
Lucy Bradshaw has turned her gaming obsession into a successful career, starting out at LucasArts and Activision, and moving on to Electronic Arts, where she created the most successful versions of The Sims. Bradshaw then brought her innovative influence to Spore, a bestselling game that is beloved for its unique approach. She seems to have a golden touch: the games that Bradshaw works on often go on to become household names.
8. Ingrid Daubechies, President, International Mathematical Union:
Belgian physicist and mathematician Ingrid Daubechies is the first woman president of the International Mathematical Union. She is renowned for her work with wavelets in image compression, and two wavelets are associated with her name: the Daubechies wavelet and the biorthogonal CDF wavelet. A former professor at Princeton, Daubechies is now a Duke University professor of mathematics.
9. Sara de Freitas, Director of Research, Serious Games Institute:
For some people, games are fun. For others, games are seriously fun. Sara de Freitas sits in the secondary camp, as she leads the research team responsible for developing games that are not just entertaining, but educational and useful for applications including health care and defense.
10. Helen Grenier, Co-Founder, iRobot:
Most people know Helen Grenier's work with iRobot in the form of the Roomba automatic vacuum, but she's done so much more than give lazy people clean floors. Through iRobot, Grenier has created the PackBot robot designed to make soldiers safer and more effective, just one of many projects designed to bring robotics to the military, industrial, and consumer markets. She has since resigned from her position as Chairman of the Board of iRobot, but continues to serve on the board of directors. Grenier is now the CEO of CyPhyWorks, a maker of small, unmanned flying robots.
11. Antonia Coello Novello, Surgeon General of the United States:
Once upon a time, women weren't expected to be doctors, but from 1990 to 1993, Antonia Coello Novello served as the Surgeon General of the United States. She was the first woman, and the first Hispanic to serve in this post. Novello is now the VP of Women and Children Health Policy Affairs at Disney Children's Hospital.
12. Susan Landau, Visiting Scholar, Harvard University:
Susan Landau is one of the world's foremost researchers in the field of wiretapping and computer encryption, and even has an algorithm for denesting radicals named after her: Laundau's algorithm. From 1999 to 2010, she worked in Internet security at Sun Microsystems, followed by a fellowship at Harvard's Radcliffe Institute for Advanced Study, where she investigated government system security and privacy. These days, Landau is serving as a visiting scholar for Harvard University's Computer Science Department.
13. Kari Byron, Mythbusters co-host:
Unlike many of the other women on this list, Kari Byron doesn't posess a staggering resume full of fellowships, awards, and professorships. But that hasn't stopped her from becoming an experimental icon for women, most famous for her role on the Discovery Channel TV show MythBusters. As co-host, Byron is part of a team that tests the plausibility of myths using scientific methods. Following her success on MythBusters, Byron has also created her own show, Head Rush offering fun science education for teenagers.
14. Esther Takeuchi, Prolific Inventor:
Esther Takeuchi is one of the most amazing female inventors working today, creating inventions that make it possible to save millions of lives. Incredibly, Takeuchi has more patents than any other woman in America, with 148 at the last count and growing. This legendary inventor has pioneered the creation of power sources for implantable devices, most notably the battery used in the implantable defibrillator, an invention that earned her a trip to the White House and a National Medal of Technology and Innovation. For her amazing work, Takeuchi was recently inducted into the National Inventors Hall of Fame.
15. Jill Tarter, Astronomer, Director, Center for SETI Research at SETI Institute:
Remember the novel/film Contact? It was based on Jill Tarter's work. As a major player in the search for extraterrestrial life, if we ever do find aliens, we're pretty sure Jill Tarter is going to be the one to tell us about it. But while she's working to discover little green men (and/or women), Tarter's work with the Allen Telescope Array also enables her to search deep space for radio emissions and distant technologies.
16. Françoise Barré-Sinoussi, Director, Regulation of Retroviral Infections Division, Pasteur Institute:
Françoise Barré-Sinoussi is renowned for her work as a virologist, studying immune responses to viral infections and retroviruses as well as major work in the field of HIV. In fact, along with her former mentor, Barré-Sinoussi discovered HIV as the cause of AIDS, a discovery that she earned the Nobel Prize for in 2008. She has been a major advocate of HIV/AIDS education, and in July 2012, will become the President of the International AIDS Society.
17. Sheryl Sandberg, Chief Operating Officer, Facebook:
One of the most successful women working in technology today, Sheryl Sandberg has had major influence both as Vice President of Global Online Sales and Operations at Google, and now as the Chief Operating Officer of Facebook. But before stepping into her role in the technology world, Sandberg was the Chief of Staff for the U.S. Department of the Treasury. In her most famous role as Facebook COO, Sandberg has been a major proponent of work policies that positively impact women, including accessible child care and maternity leave.
18. Svetlana Savitskaya, Deputy Chair, Committee on Defense, Former Russian Cosmonaut:
Cosmonaut Svetlana Savitskaya holds the honor of being the first woman to walk in space, and the second woman in space, period. Savitskaya has twice been awarded with the title of Hero of the Soviet Union, and even has two asteroids named after her. She's since retired from the Russian Air Force, but continues to work as a the Deputy Chair of the Committee on Defense.
19. Marissa Mayer, Vice President of Location and Local Services, Google:
As one of the most public faces of Google, Marissa Mayer is a very influential woman in technology. She was hired as one of the first 20 employees at the company, and was the first female engineer on board. Mayer is credited with being majorly responsible for the success of Google's user interface and design.
20. Mary Lou Jepsen, Founder, Pixel Qi:
Mary Lou Jepsen is now working in the for-profit sector with her company, Pixel Qi, which manufactures low-cost, low-power laptop LCD screens. But Jepsen is most famous for her role as the first Chief Technology Officer of One Laptop Per Child, a revolutionary non-profit that provides inexpensive laptops to children in developing countries. In 2008, Time named her one of the 100 most influential people in the world.
21. Ruzena Bajcsy, Professor of Electrical Engineering and Computer Science, University of California, Berkeley:
Ruzena Bajcsy is a superheroine of robotics, working to create sensors that can alert us to everything from forest fires to wandering Alzheimer's patients. But she hasn't stopped there. Her research areas include artificial intelligence, biosystems and computational biology, graphics, human-computer interaction, and more. She is considered to be one of the most important women in science today.
22. Mamta Patel Nagaraja, Project Manager, Women@NASA:
Girls who dream of becoming astronauts when they grow up should look to Mamta Patel Nagaraja, the project manager for the Women@NASA project aimed at increasing interest in NASA fields among young women. As part of her work with Women@NASA, she facilitates mentorship through the NASA G.I.R.L.S. virtual mentoring program, pairing current NASA workers with young women who are interested in NASA careers. For her work, she has been awarded the NASA Exceptional Service Medal, one of the top recognitions available from the agency.
23. Ada Yonath, Director, Helen and Milton A. Kimmelman Center for Biomolecular Structure and Assembly, Weizmann Institute of Science:
This iconic crystallographer is known for her work on the structure of the ribosome, for which she won the Nobel Prize in Chemistry in 2009. Yonath was the first Israeli woman to win the Nobel Prize, and the first woman in 45 years to win the Nobel Prize for Chemistry.
24. Mildred Dresselhaus, Institute Professor, Professor of Physics and Electrical Engineering, MIT:
One of the foremost researchers in applied physics, Mildred Dresselhaus is well known for her work in carbon nanotubes. Most notably, she earned the National Medal of Science in 1990 for her work on the electronic properties of materials. In addition to her physics work, Dresselhaus has been a major supporter of increasing the participation of women in physics.
25. Elisabeth Pate-Cornell, Professor, Management Science and Engineering, Stanford University:
Elisabeth Pate-Cornell is a major researcher in risk management engineering, sharing her knowledge in medical device development, nuclear nonproliferation problems, and even early warning systems. Most notably, Pate-Cornell was elected to the National Academy of Engineering, the first female engineering faculty member from Stanford to earn this honor.