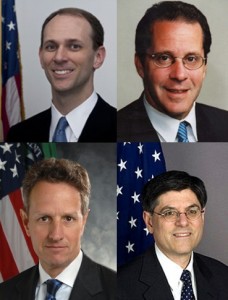 President Obama has appointed Gene Sperling as Director of the National Economic Council, replacing Larry Summers. With this appointment, the Obama Administration's big four economic leadership positions will be held by white men.
Director of the National Economic Council – Gene Sperling
Director of the Office of Management and Budget– Jacob Lew
Secretary of the Treasury – Timothy Geithner
Chairman of the Council of Economics Advisors – Austan Goolsbee
Christina Romers was formerly Chairwoman of the Council of Economic Advisors. She resigned in August 2010 amidst speculation of being bullied out by Summers and Geithner. At that time, numerous women's groups criticized President Obama for not including women and creating a fraternity like atmosphere.