Brazil's First woman President vows to hire more Women to Cabinet
January 4, 2011 by C. Espinosa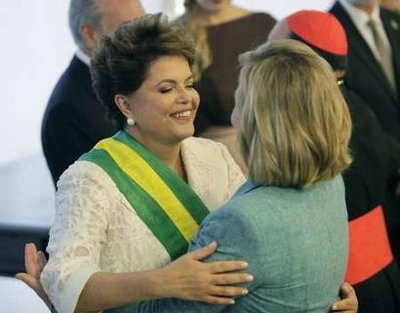 Dilma Rouseff was sworn in this Saturday as the first woman president of Brazil, highlighting the trend of women presidents in Latin America, and Secretary of State Hillary Clinton was there to congratulate her.  Rousseff has vowed to open spaces for women at top government levels by appointing more women to her cabinet.
She has already started the trend, with "her security detail [which] is comprised [by] six young women, clad in black and running alongside the car through the downpour" during her inauguration.
Ms. Rouseff is described to be to the left of former popular ex-president Lula da Silva (who was also left), and more of an "ideologue"; nonetheless, she is also recognized as a "pragmatist". No question she faces great challenges, but she has proven she can change and adapt to tough and changing environments: she was a former Marxist guerrilla, who was jailed and tortured…and now is a powerful player of the political system.  She has vowed to continue the economic growth path of her predecessor, and to increase her country internal and external strong position.   There are great expectations for Rouseff, and very particularly from women.  Hopefully these expectations will translate into support and understanding of her leadership role, and will add to the presence of women leaders throughout the world.  In Brazil, people are already yearning for what her role/example will represent for all Brazilian women and girls.
Rouseff joins Latin America's other first female president Costa Rica's Laura Chinchilla; as well as Kirschner from Argentina, and  Persad-Bissessar from Trinidad and Tobago as female leaders of this continent. The first woman president in the Western Hemisphere (In the American continent) was Isabel Peron, from Argentina, more than 35 years ago, in `1974.
There are currently 18 world Female leaders in the world (see graph below), 4 from the Western Hemisphere. For those of us to whom the pace of women ascendancy to power has been too slow, it is inspiring to see all these faces representing and leading their countries.  Yet, women as heads of state represent only 9% of the 192 countries represented in the United Nations.  The percentage rises to 15% if queens and other government positions in dependent territories are added.