Clitoral Relativism: A "Nick"
May 16, 2010 by Karen
The opinions expressed herein are those of the author, and not necessarily those of The New Agenda.
Oh, what is a little nick? Well, it depends upon what is being nicked off.
In the context of female genital mutilation, a nick is something that does not go all the way. It leaves the genital area partially-removed and partially-intact. Nicks can be considered a stepping stone toward the elimination of mutilation in countries that already approve of completely ravaging the female sexual system.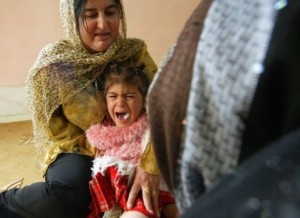 Does this country need such a stepping stone? The answer is "no" because female genital mutilation is illegal in this country.
In countries that approve total mutilation, nicks are a positive step in the right direction because it goes from completely-disfigured to partially-disfigured. However, in a country that has banned mutilation, nicks are a horrific step in the wrong direction because then it goes from completely-intact or unblemished to partially-mutilated and scarred for life.
Can you imagine the horror when I learned that the American Academy of Pediatrics wants to approve of nicking off a girl's sexual organs? Isn't this the United States?
Dr. Lainie Friedman Ross is a member of the Academy's bioethics committee. She and other committee members disapprove of mutilation, but they sought to provide a "statement on safety in a culturally sensitive context."
"If we just told parents, 'No, this is wrong,' our concern is they may take their daughters back to their home countries, where the procedure may be more extensive cutting and may even be done without anesthesia, with unsterilized knives or even glass," she said. "A just-say-no policy may end up alienating these families, who are going to then find an alternative that will do more harm than good."
I wish Ross and her cohorts would understand why this is such a dangerous slippery-slope toward approving full-scale female genital mutilation. I hate any form of mutilation wherever it may occur. Some people do consider the clitoris to be of relative importance. Some people consider the snipping of the clitoris to be "a rite of passage meant to purify the genitals and bestow gender identity on a female child" Lukman Hakim is a high-ranking official for an organization that provides free FGM services in Indonesia. He comments about the effects of FGM:
"One, it will stabilize her libido," he said through an interpreter. "Two, it will make a woman look more beautiful in the eyes of her husband. And three, it will balance her psychology."
To use a line from Andrew Bostom, I refuse to believe in Clitoral Relativism. Neither does Michelle Malkin, a daughter of Filipino immigrants. She has repeatedly decried and linked to the horrors of female genital mutilation. I am deeply concerned that the American Academy of Pediatrics would conclude wrongly about Clitoral Relativism. As one unfortunate victim in Kurdish Iraq said:
"I just wish that I could be the way I was before the procedure…"