WOW! Variety censors, but Hollywood Reporter runs it…Hey Hollywood – time to learn about sexism!!!
June 17, 2009 by Gwilym McGrew
A special thanks to The New Agenda's supporter Gwilym McGrew from California.  Gwilym paid  to run Amy Siskind's HuffPo article, "Sexism Against Conservative Women is Still Sexism" as a two-page ad in the Hollywood Reporter.  Gwilym figures the folks in Hollywood can stand to learn a thing or two about sexism.  Ironically, Variety turned down Gwilym's request to run a similar ad.  Read Gwilym's story below!

Here is the text of the ad below.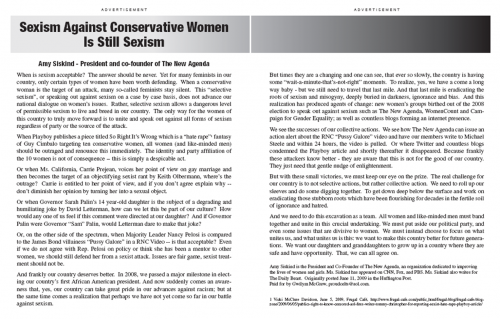 Amy, your article inspired me. I am Republican who had many discussions with my wife (a Bush loving feminist Republican. Bet some didn't know there was such a thing) and daughter (a Hillary democrat) about all these same issues you wrote about. I worked in the entertainment industry for many years and thought that your article needed broader distribution into that community. We need to enlighten the writers, producers, directors, "suits," and television news community that many of the attacks on women that have lately hit the news are just wrong. The entertainment industry helps create our country's collective culture and these folks need to understand that degrading and mocking attacks need to stop. People should argue about issues and ideas and not attack people who are making particular arguments.
As you know I tried to get this ad to run in Variety for last Monday but we were rejected without explanation. It does appear the "editorial" folk there killed the reprint which just amazed me given the evenhanded nature of your article. But then, this is "Hollywood" and they have many sacred cows who pay big bucks to build their image and this makes Variety and Hollywood Reporter financially dependent on these folks. My guess is Variety did not want to bite the hand that feeds it. Thankfully, the Hollywood Reporter came through.
Your article and call to action will stand the test of time and with Letterman still in the news today will certainly be very relevant for tomorrow's issue of Hollywood Reporter.