If you Encourage Sexism, are you Sexist?
June 9, 2009 by The New Agenda
Hat tip:  Bruce Nahin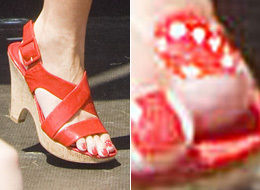 Huffington Post ran this headline, "Sarah Palin's Toenails:  What's Painted On Them?"  along with these pictures of Governor Palin's foot, taken during her recent participation in an Autism walk.  Anya Strzemein's "article" contains no discussion of Autism or charity work.  Just one sentence identifying the foot in the photos and one sentence encouraging readers to "tell us what you think."  And, oh yes, there's a poll allowing readers to vote on what they think is decorating Palin's toenails.
We've said many times that focus on a woman's body parts instead of her ideas and actions is sexist, and that such belittling is aimed at women on both the left and right by both men and women.  In this case, some will argue that HuffPo is just having a little fun.  However the comments posted after the stroy are classist, sexist, and hateful, which can't be a surprise to Huffpo.  So what about encouraging comments that you know are going to be a mysogyny fest?  Is that sexist, too?  Now it's your turn.  Tell us what you think.