Women Who Help Women: Zoe Cruz
November 25, 2008 by Sheryl Lee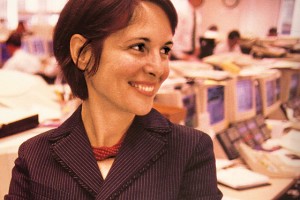 Last night on Chewing the Fat with Ophelia, Amy Siskind talked about Zoe Cruz, a colleague from her Wall Street days who became President of Morgan Stanley before she was fired at the beginning of the current economic crisis, along with Wall Street's two other top women. This corporate blood-letting failed to appease the Gods of Finance, and the market continued to decline even after the women were purged.
Last night Amy talked about what Zoe Cruz did for other women in her field, and how we can all benefit by her example:
Women promote other women and mentor other women, and that is the way forward. Zoe Cruz was a tireless promoter of women.

You need a woman who's going to have drinks with the girls and say, "This is how you get to be a partner. This is what you need to do. This is how you get through the shit. This is the kind of stuff that the guys get at the strip clubs, but we're going to hang out, girls, and I'm going to help you."

And that's what we all need to do.
In "The Queen Who Couldn't? (Or Wasn't Allowed?)", Eric Best, another former colleague of Cruz's, writes allegorically about her ousting and the gender-based unrest that preceded it:
[B]ecause she was a woman, a number of the more senior men hated her. None hated her more than those whose jobs she threatened or whose income and influence she might overtake in her ascent to the throne.
The New Agenda will be putting Zoe Cruz's name forward as a potential candidate to fill Hillary Clinton's Senate seat, should Clinton accept Obama's offer of Secretary of State.